Немецко-Украинское предприятие БИТ — предоставляет полный спектр услуг по разработке и согласованию проектных работ всех стадий:
pre-project integration of the facility with external engineering networks;

carrying out and harmonizing the design work for the construction of facilities and arrangements for their integration into external engineering networks;

obtaining positive conclusions from all stages of project in the relevant institutions.

The skillfully executed design makes it possible to optimize investment in the execution of construction and installation works.
Preliminary list of documents required before the start of design:
copy of the document confirming the ownership or use of the site or land;

urban planning conditions and restrictions;

technical conditions;

design task;

topographical and geodetic materials for project site and engineering networks;

results of engineering and geological surveys at the project sites.
The planning documents for the construction are based on the existing urban planning documents.
Based on construction rules and State standards, as well as the class of consequences (liability) of the facility being constructed, is determined by category of complexity. In addition, the class of consequences (liability) of buildings and structures is determined by the level of possible material losses and (or) social losses associated with the cessation of the operation or loss of the integrity of the facility. All construction facilities are divided into I, II, II and V categories of complexity and have the following impact classes: CC1, CC2 and CC3.
Сategory of complexity of an object is noted in the design task, used to determine the stage design and calculated in the design documentation.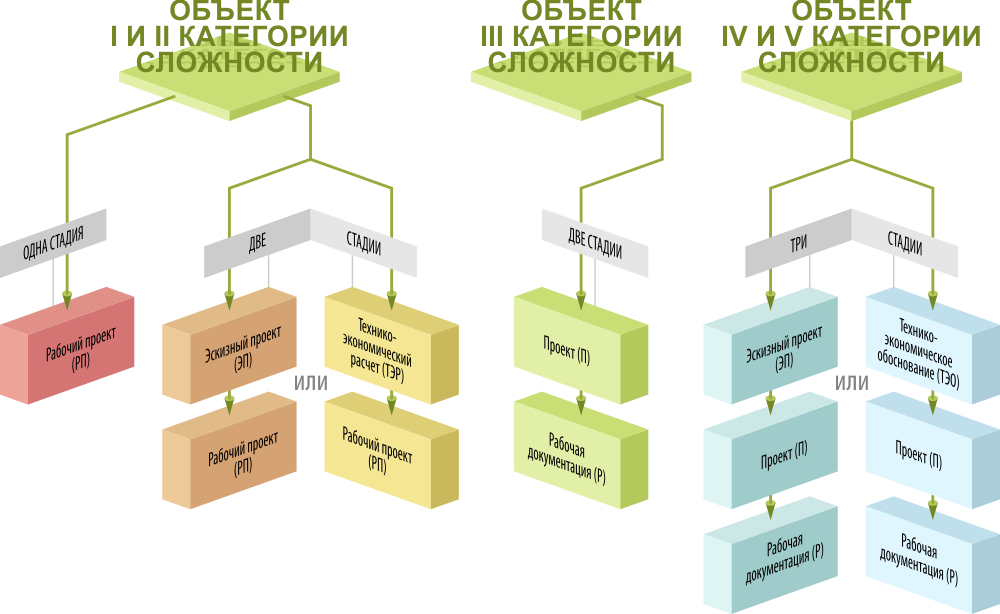 Экспертиза проектов строительства проводится в обязательном порядке для объектов строительства, которые:

 
принадлежат к IV и V категориям сложности (вопросы санитарно-эпидемиологического благополучия населения, экология, охрана труда, энергосбережение, пожарная, техногенная, ядерная и радиационная безопасность, прочность, надежность, долговечность домов и зданий, их эксплуатационная безопасность и инженерное обеспечение;

сооружаются на территориях со сложными инженерно-геологическими и техногенными условиями (прочность, надежность, долговечность домов и зданий);

- as well as the credits granted under State guarantees concerning the estimated part of the project documentation. At the same time, the expert organization of the State form of ownership carries out expert studies of projects for the construction of objects of categories IV and V.

optional for construction facilities of I-III categories of complexity.
According decision of the Customer, an expert examination may be carried out for other construction projects or individual sections of the project documentation which are not provided for by law.
The experience of successful projects in connection of objects to electrical networks, the availability of qualified personnel in the form of a project engineering group, has enabled German-Ukrainian enterprise BIT to create an optimal concept of project documentation, which satisfies the requirements of all matching parties (Oblenergo, NEC «Ukrenergo» and other expert institutions).